ATFD Training Facility Features
The Abington Township Fire Department Fire Training Facility was established in 1958.  This came about by a group of proactive and forward thinking fire department members who identified the value of setting aside township owned property for use by the fire department for training.
The first structure erected was in 1958 and is the 5 story Drill Tower.  The facility, situated on close to 4 acres, has evolved ever since with the addition of numerous other structures, props, and dedicated areas used to support the training activities of the fire department.  These additional training features include the following:
---
Drill Tower
Constructed in 1958, this 5 story structure is constructed of reinforced concrete floors and concrete block walls.  It is used for ground ladder training, aerial ladder training, stair tower standpipe evolutions, rope rigging and repelling training.  To support rope and rigging activities, the building is equipped with a series of rated anchor points.
Burn Building
Constructed in 1982 with an addition in 2007, this 3 story 6 burn room facility was erected by WHP Fire Training Towers.  All burn rooms are lined with WHP's proprietary Padgenite Panels for the protection of this all steel framed structure.  In addition to "live fire" training and evolutions, the structure is also used for the following:
SCBA Use and Training
Search and Rescue
Hoseline Advancement and Evolutions
Ventilation
Forcible Entry
Thermal Imaging Camera
Operations
Ventilation
Rapid Intervention Exercises
Ground Ladder Training
Aerial Ladder Training
The Burn Building also boasts a Cold Smoke Distribution System that is piped to areas of the structure including the attic simulator for use when not conducting live burn simulations.  Sectional valves in the piping distribution allow for the control of smoke to key areas of the building while conducting training, such as full smoke distribution while performing ventilation of the roof/attic prop area.  
A non-burn room also features a complete automatic sprinkler training prop for training on the various features and operations of typical sprinkler systems of buildings. 
Special Operations Training Prop
Constructed in 2015, this training feature was erected by American Fire Training Systems.  This prop, consisting of two 40 foot and one 20 foot shipping containers, offers the following training and skill set elements:
SCBA Confidence Building Maze w/Adjustable Configurations
Four Section Collapsible Adjustable Floor Prop
RIT Training
Denver Drill Window
Multiple Confined Space Features
Manhole Rescue Props
Elevated Platform for Tripod Operations
Multiple Vertical Hatches for High Point Anchor Training Evolutions
Counter-Balance Sliding Fire Door Hazards Prop
Wall Breach Training Prop
Accessory Storage Building
Constructed in 2011, this 4,000 square foot insulated all metal building houses a variety of equipment assets and training props which supports the operations of the fire department as well as the training functions of the facility.   Features of this building include the following:
ATFD Technical Rescue Equipment Trailer
Machinery Rescue Entanglement Training Prop
Lock Out / Tag Out Training Prop
Fire Service and Rescue Knot Review Prop
High Point Anchors for Rope & Rigging Training
Hazardous Materials Responder Vehicle (County Owned Asset non ATFD unit)
Foam Trailer with Monitor(County Owned Asset non ATFD unit)
ATFD Fire Prevention Equipment Storage Trailer
ATFD Fire Prevention Fire Drill Training Trailer
Cold Smoke Fire Simulator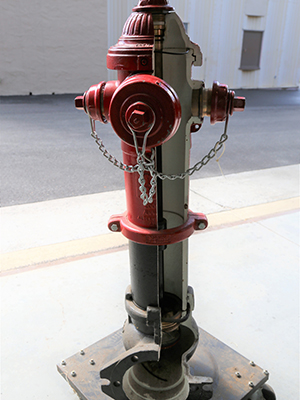 Classroom Facility
Constructed in 2000, the training facility classroom boasts a 60 person classroom facility for lecture oriented training programs.  Modern audio-visual elements, including WIFI, are provided within the facility.  A small kitchen and restroom conveniences are provided for sustained training programs for the department. 
---
Structural Collapse Prop
Constructed in 2016, this department built prop was erected for the purpose of supporting structural collapse training functions.  Built from concrete storm trap sections, the prop includes elements of a v-pattern floor collapse, a pancake floor collapse and a lean-to floor collapse of steel.  It also includes a pivoting steel beam used to review use of load cell indictors associated with shoring and collapse scenarios.  ATFD members also have this prop available to them for learning proficiency with the departments remote "snake eye camera" and listening devices.  
The prop also includes additional consumable oriented elements for use with breaching of concrete block and cutting of steel with the departments assorted wall breaching tools and torch cutting devices.
Water Supply / Pump Operations Training
The Abington Township Fire Training Facility has two fire hydrants on the grounds of the complex.  The water for the fire hydrants of the facility is provided by the water service provider Aqua of PA for the area, entering the site by way of an 8 inch water main.  This water main enters the complex from Florey Lane, where there is valve pit at the facility entrance which controls the flow of water to the facility.  This valve pit, water main, and hydrants were upgraded in 2000.
The water supply for this main and the hydrants is capable of delivering over 1,500 gallons per minute at 20 psi for training purposes.
Driver Operator and Pump Operations training is further supported by the following elements:
A fixed hose and nozzle discharge manifold for pump training
A Dry Barrel Hydrant Cut Away for understanding the operating principles of a fire hydrant
A 2,500 gallon folding tank for pump training relative to drafting operations
Assortment of appliances to support pump operations training and use of the folding tank such as a Barrel Strainer, Floating Strainer, Low Level Strainer, Jet Siphon, and a 5 inch Quick Fill Adapter for filling the Folding Tank from hydrant water
Vehicle Rescue Training Area
This area encompasses approximately 5,000 sq. ft. of open space dedicated for the use of vehicle extrication training purposes.  The fire department works with a local salvage business for the purpose of staging vehicles that are drained of fluids, antifreeze and refrigerant prior to utilizing the vehicle for training purposes.  Following the training, the vehicles are removed from the facility and sent to the salvage operation for disposal.  
This area of open space also includes space for performing trench rescue exercises in support of the various equipment within the department, such as shoring panels, struts for shoring, as well as a cache of lumber provided on the Technical Rescue Equipment Trailer. 
Ready to Get in the Action?
Fill out an inquiry form and we will get back to you soon!